Would you like to monitor the smartphone activities of your underage child? Then, here is the FREE mobile tracker offers:. Mobile tracker protects your children from online threat by monitoring their smartphone activities i.
TheTruthSpy: Mobile Spy - Hidden Spy App - Phone Spying Free!
Free Spy Apps for Android | Cell Phone Spy - best hidden app for mobile.
№1 Cell Phone Spy App for any Smartphone | mSpy™.
Get up to date with real time data uploading and backup your all data on our highly-secured server with our app. SpyHuman's Cell phone tracker app stays invisible on the targeted device and collects all the activities of your child without being known by them, Phone tracker helps you to locate your children's or employee's real time GPS Location while the App remains undetectable on the targeted device.
Note: To purchase an app you first required to install the app on the device then you can proceed with purchase from your account. In order to keep the application free, we are forced to limit the number of requests so as not to clutter the database unnecessarily. Thus only the customers really active on the site will be able to keep the free use of the service..
For customers using the free offer, without connecting to the site for 7 days from the last login, the target phone will be automatically deleted.. For customers using the basic or premium offer, without connecting to the site for a month from the last login, the target phone will be automatically deleted. SpyHuman's FREE mobile spy app has been helping many parents for tracking their children's activities remotely for last couple of years.
This makes me feel safe while using Spyic. If millions of users trust Spyic to keep their data secure, so can I. Spyic pricing model is ultra cheap and affordable. In case you feel that you need more convincing, you can check Spyic demo here completely free no app download required. Cocospy is another cool hidden spy app and a close competitor to Spyic. It has many cool features that will make you think twice about using any other app below it in this list. Its beautiful interface and simplistic design caught my eye for the first time I saw it. I was completely wrong. There are so many features accessible through a single dashboard.
You can do almost anything you want with the target phone. All their data is yours practically. You can view it and even download it to your system. There are many other cool features. But that would make you think that I am biased as a fan of Cocospy. It also fulfills all the parameters that I mentioned in part one. It does not require any root or jailbreak, which is just perfect. If I were you looking for a phone spy app, I would be getting it now. You can do the same here. You are going to use this app for long once you get started cause its so good. Therefore, why not save more?
Spytomobile gives some competition to our top two contenders though not really a tough competition. It terms itself as a mobile aggregation software that collects data of the target device. And it is not lying when it says that. It can collect message data, call data, and tracks of the target devices. However, it misses many of the features that Spyic offers. Further, this cell phone spy app also requires you to install their app on the target phone, no matter the target phone is Android or iOS.
Well, I would deduct a point there. Additionally, I found their interface a bit dull for my taste. Felt like you have gone back to the 90s computer systems. It aims for parents to monitor the phone activity of their children. It enables you to monitor their calls, messages, browser history and few more things. The installation and the interface are simple to use. However, the fact that they serve only Android customers is a disappointment. Further, they lack so many features that Spyic and Cocospy have to offer. I think Spyhuman should up their game to compete on the same tables.
Spyera is a phone spy tool for phones, computers, and tablets. It collects data of the target device while working in stealth mode. The app has a web-based interface, meaning you can use it from any web browser on any device.
mobile cell spying software review?
htt phone keyloggerweebly?
Part 1. 7 Best Hidden Free Spy Apps for Android with 100% Undetectable;
Spy Phone App Features.
mobile spy free download windows 7 sp2 system requirements!
nokia phone spying.

However, I was put off when I found out that it requires you to root the target phone if its an Android. If the target phone is an iPhone, you will need to jailbreak it. For this major shortcoming, you would think they would cut down their price. However, it is actually the opposite. Spyera costs double or triple the price of Spyic or Cocospy. And consider that the later work without requiring root or jailbreak. Mobile spy is a phone spy tool that works only for Android. It can keep an eye on the text messages, calls, location, and some other data of the target phone.

To be honest, it does not have much to offer in terms of features.

But what it offers, it does well. It is fine if you want to check only the browser history, location, and a few other things of the user. However, it is a good idea not to use this tool while expecting too much.

Part 2. How to Use the Undetectable Spy App for Android

I feel they could improve their interface more. It feels like you have walked back a decade in terms of technology. For their features, they should have given a concession on the pricing. However, it cost more than our topmost crown contenders. Mobistealth is a phone spy app without target phone that is compatible with computers as well though I would not suggest you use it for the latter.

For phones, it is compatible with both Android and iOS. It can track all the data of the target phone like social media chats, calls, location, etc. Also, it does not require you to root or jailbreak the target device. The installation process is pretty easy as well. However, I wished they could improve more up on their dashboard design.

If they are offering good features, why not present them well too?



Spy on Cell Phone Without Installing Software on Target Phone.
spy software for iphone?
5 Best Spy Apps for Android & iPhone []: Hidden Phone Trackers!
spy iphone X app?
The major disadvantage of this app that puts it this down in the list is its price. It offers not a single feature more than the best apps we have mentioned. However, it is one of the costliest tools in the list. Copy9 is a phone spying tool that works only for Android. It is compatible with most Android devices. It has a keylogger feature too. However, as you might have guessed, if it is this good, there must be a downside.
Well, there is.
Copy9 only works with rooted Android devices. This is pointless as if you are going to root it, the user will surely find out what you have done with it.
Mobile spy app for phone - Appmia
But well, the app works if you are willing to root the phone. Although, with these compromises in features and technology, there is no compromise in price. The tool is pricey and costs double as much as our top picks. This gives it the 8 spot on our list. Auto forward is not a terrible spy app if what you want is something basic. It works for both Android and iOS.
It has basic functionality features like call monitoring, GPS monitoring, message monitoring, and a bit more. It works similar to the top picks in our list. Though the features are very few as compared to Spyic and the interface is a bit cliche and boring. Even then, the spy app asks for a pricey investment. It costs way more than Cocospy and Spyic combined. I think if they lowered its price it might give a better though not equal competition to the top apps. When I used Hellospy, I felt that it is not so bad. It is compatible with both iPhone and Android.
It has many features including location monitor, message monitor, social media monitor, etc. To use Hellospy on an iPhone or an iPad, it requires that the target device is jailbroken. But well, if you feel that Hellospy is for you, you can use it per your will. Although, they are also hefty on the pricing part.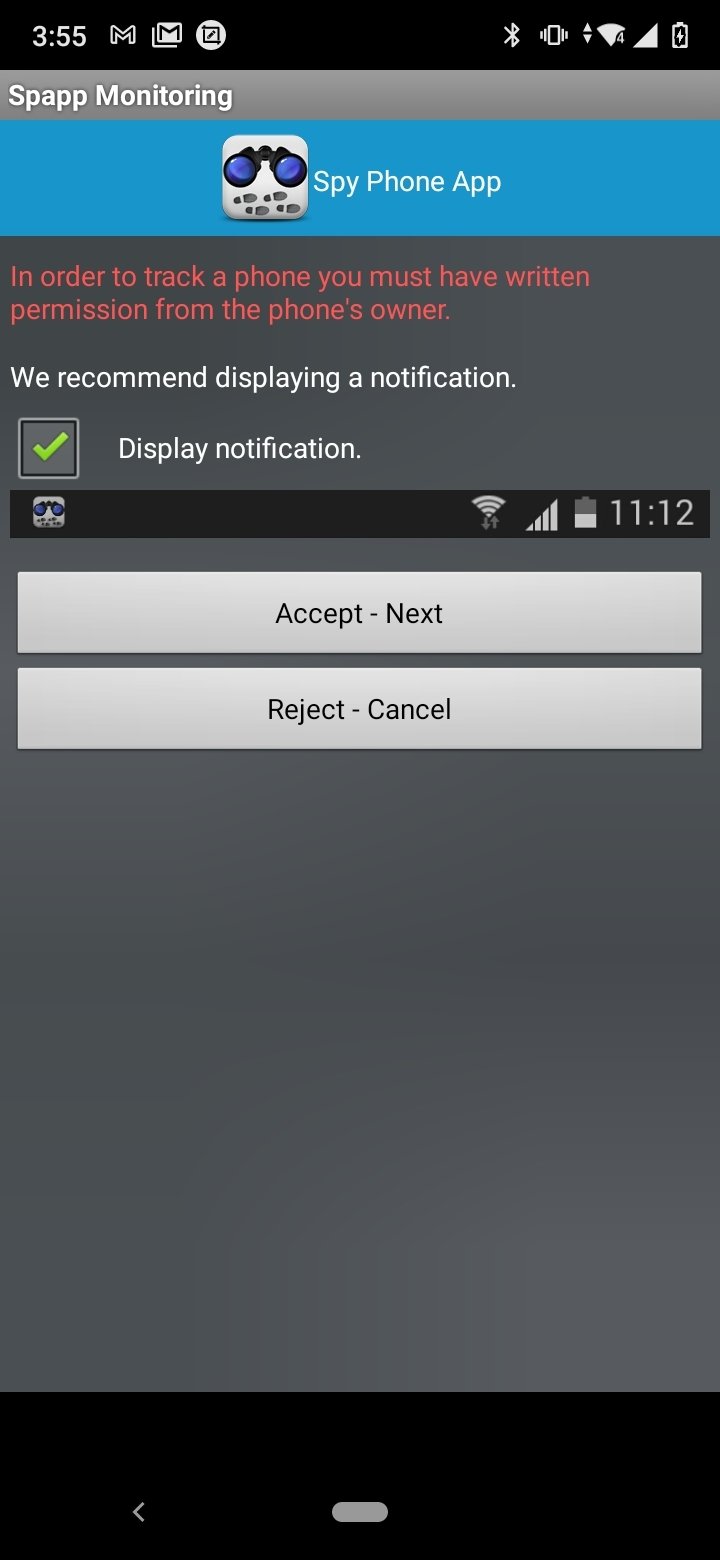 I think you might have concluded the verdict even before reaching this section. You have seen all the apps and you know what they can do.
The Best 7 Free Undetectable Spy Apps for Android
You know their plus points and their weakness. Based on that, it is not really tough to choose a winner. I think we can all unanimously agree that the best phone spy race is clearly won by Spyic. And that too, by a huge margin. Spyic does not compromise anywhere.